Retired MLB Star Roy Halladay Dead at 40 in Plane Crash
Ex-MLB Star Roy Halladay
Dead at 40
In Fatal Plane Crash
11/7/2017 1:10 PM PST

Breaking News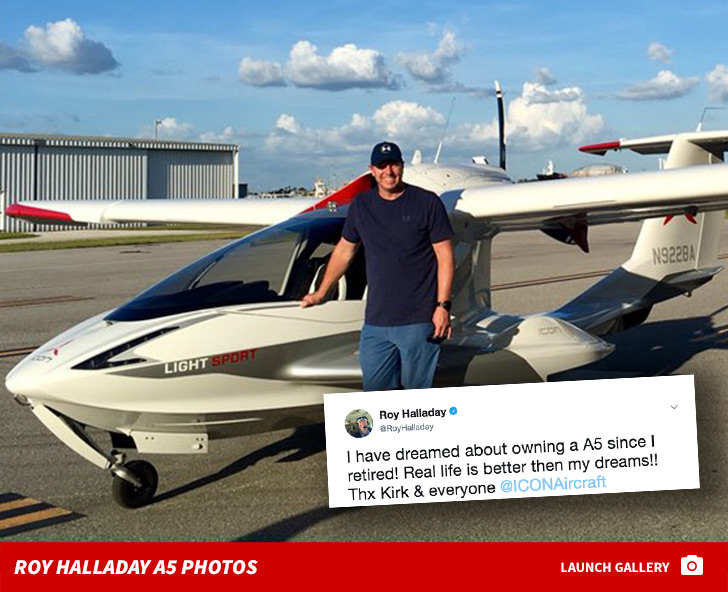 Retired baseball superstar Roy Halladay died in a fatal plane crash Tuesday in the Gulf of Mexico.
The Pasco County Sheriff's Dept. in Florida is holding a news conference to reveal details of the crash. They confirm Roy was the only person aboard the ICON A5 light-sport aircraft when it went down 10 miles west of St. Petersburg.
The Sheriff's Dept. says Roy did not make a mayday call before he went down, and they've already recovered his body.
40-year-old Halladay proudly purchased his ICON A5 just last month. He posted a video when he got the plane, in which his wife expressed concern about him flying the aircraft.
Roy was an 8-time All-Star pitcher for the Phillies and the Blue Jays, and a two-time Cy Young Award winner. He's one of only 2 players in MLB history to throw a no-hitter in the playoffs. He also pitched a perfect game for the Phillies in 2010.
The Phillies issued a statement — "We are numb over the very tragic news about Roy's untimely death. There are no words to describe the sadness that the entire Phillies family is feeling over the loss of one of the most respected human beings to ever play the game." 
He's expected to be a first ballot Hall of Famer when he becomes eligible in 2019.